Reliable Plumbing, AC Repair, Heating & Electrical Services in Chantilly
Are you looking for a trustworthy home services company that does it all? Contact Reddick & Sons at (703) 348-9881 for qualified electrical, plumbing, AC, and heating installation and repair services and enjoy peace of mind. Keep more money in your pocket when you visit our coupons page and save on your next service.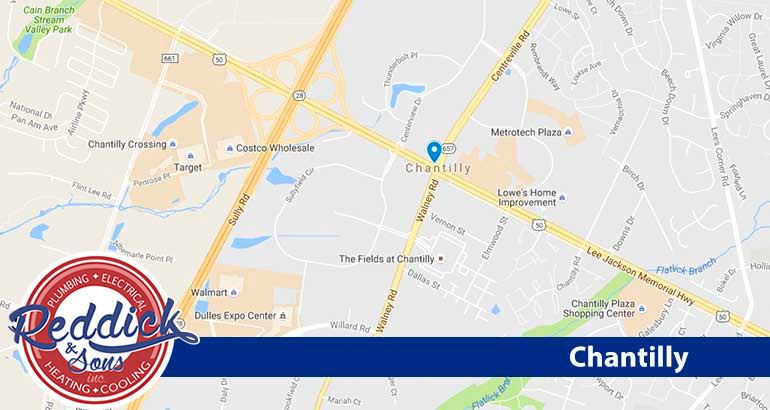 Homeowners in Chantilly, VA, can attest to both the pros and cons of high water pressure. While it's nice for a hot shower, when water pressure is too high it can wreak havoc on your plumbing fixtures and appliances, causing leaks among other issues. That's why you need the team of plumbing experts at Reddick & Sons to help. Our dedicated team is committed to providing safe solutions to keep your home comfortable and convenient year-round. Whether your issue is plumbing, heating, cooling, or electrical in nature, our expertly trained technicians will provide you with the personalized solutions you need.
Want to hear what our past customers are saying about our work? Just visit our reviews page to see why so many area homeowners choose our services.
Your Local Plumbers
At Reddick & Sons, we are your local plumbers dedicated to solving your commercial or residential plumbing problems. Whether you need drain cleaning, water heater repairs, or something in between, count on us to find a personalized solution that works for your needs and budget.
Quality Air Conditioning Services
Broken AC with nowhere to turn? Count on quality AC repair and cooling solutions from the trusted team at Reddick & Sons. We make ourselves available around the clock to make sure your home stays comfortable and safe.
If you experience any of the following issues with your AC, call for professional air conditioning service:
Electrical malfunctioning
Corroded wiring
Clogged condensate
Leaking refrigerant
Reliable Furnace Services
Is your furnace malfunctioning even though it's only several years old? If so, look out for the following signs that indicate heater or furnace repair is advisable:
Pilot light has turned yellow
Unit powers on then off
Cracks in the unit itself
A decrease in indoor air quality
If your unit is more than 10-15 years old, furnace installation may be the best course of action and will likely save you money in the long run. Contact our team of experts today to come out for an inspection of your heating unit. We'll spot the problem and help you determine the best solution for your budget and needs.
Electrical Repairs You Can Count On
When you're experiencing electrical problems, it can be tempting to perform a DIY repair or installation. However, this is extremely unwise. Why? Old, worn out wiring and circuits can be a serious hazard and require the hand of an experienced professional electrician.
At Reddick & Sons, our technicians have the know-how to perform a wide range of electrical services, such as:
Wall socket repair
Electrical wiring
Panel box upgrades
Lighting fixture installation
When you need electrical repairs and installations, don't attempt to do it yourself. Trust the team that has been performing electrical services for years to keep your home safe and free from danger.
Why Work With Us
At Reddick & Sons, our goal is to make sure that every home in Chantilly is kept safe and well-maintained. That's why we always go above and beyond with every service carry out.
Just some of the benefits you'll enjoy when you call for service include:
24/7 emergency service
Upfront, honest quotes
100% satisfaction guaranteed
Whole-Home Comfort Solutions in Chantilly, VA
Stop searching for professional service and solutions in your area and take a look at our list of high-quality services and solutions. Then give us a call and let us know how we can help you maintain your home's plumbing, electrical, and HVAC system.
Our Plumbing Services:
24-hour Emergency Services
Burst Pipe Repair
Gas Line Installation and Repair
Drain Cleaning Services
Sewer Line Installation and Repair
Kitchen Plumbing Repair and Installation
Sump Pump Installation and Repair
Clogged Toilet Repair
Water Heater Installation and Repair
Tankless Water Heater Installation and Repair
Air Conditioning Solutions:
Air Conditioning Repair and Maintenance
Air Conditioning Installation and Replacement
Air Handler Repair Installation and Replacement
Evaporator Coil Repair and Replacement
Heating Solutions:
Heater Repair and Maintenance
Heater Replacement and Installation
Furnace Repair and Maintenance
Furnace Installation and Replacement
Heat Pump Installation and Repair
Boiler Repair and Installation
Electrical Services:
Electrical Installation and Repair
Need reliable AC, heating, plumbing, or electrical services in Chantilly, VA? Call (703) 348-9881 to start discussing your needs today!