Professional Fairfax Plumbing, AC, Heating & Electrical Services
Are you looking for a company who can do it all? At Reddick & Sons, our expert technicians are standing by for all your plumbing, AC, heating, and electrical needs. Call (703) 348-9881 to request an appointment today. Take advantage of savings when you visit our coupons page.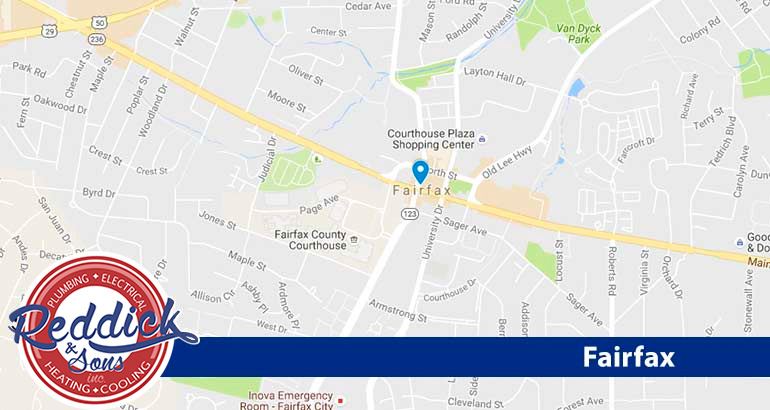 If you have lived through a summer in Fairfax, VA, you know that reliable AC is a must. At Reddick & Sons, we specialize in providing whole-home comfort solutions to property owners in the area. Whether its AC repair, heating repair, plumbing, or electrical services you need, we're the team many area homeowners and business owners trust. Call today to learn how our team of professionals can help you maintain your indoor comfort year round.
Want to know what other residents of your community are saying about our work? Visit our reviews page and see what they have to say, then give us a call for service.
Your Local Plumbers
At Reddick & Sons, we are committed to high-quality plumbing services throughout Fairfax, VA, and the surrounding area. Whether you need water heater repair, drain cleaning, or something in between, we have you covered with cost-effective solutions you can count on. When you call our helpful team for service, you can rest assured that we will listen closely to your needs and recommend the best course of action based on your unique plumbing needs.
Superior Air Conditioning Services
Struggling with less-than-reliable AC in your home or business? Fortunately, you have Reddick & Sons to provide reliable air conditioning service when you need it most. When you call for service, you'll enjoy fast, reliable service you can count on no matter what time you call. Our helpful team will listen closely to your needs and recommend the best course of action to suit your needs and budget.
Dependable Furnace Repair & Installation
Has your heater or furnace seen better days? If it is more than 10-15 years old, you may want to consider replacing your current unit with a newer, more efficient model. However, if your furnace is fairly new and experiencing issues, heating repair may be the more cost-effective option. Call a trusted heating professional to help you consider your options and perform a safe, effective repair or installation.
Complete Electrical Services
Electricity would be tough to live without, since it powers many appliances we rely on every day. If you are experiencing problems with your electrical system, or you live in a home with older, worn out wiring and circuits, you may be at risk. Call a licensed electrician to perform fast, effective electrical repairs and installations in order to avoid harm to you or your home. Some of the electrical services we offer property owners in Fairfax include electrical wiring repair and installation, panel box upgrades and installation, wall socket repair, surge protection, and more.
Call
(703) 348-9881

Today!

There are lots of things that can go wrong when you own a home, but our goal is to help homeowners in Fairfax feel confident that they can quickly resolve any problems that may arise. That's why we offer services ranging from AC installation and repair to tankless water heater installation, electrical services, and much more.

When you choose our team you will also enjoy these added benefits:
100% customer satisfaction
24/7 emergency service
Clear, upfront pricing
Professional Services in Fairfax, VA
Plumbing Services:
24-hour Emergency Services
Burst Pipe Repair
Gas Line Installation and Repair
Drain Cleaning Services
Sewer Line Installation and Repair
Kitchen Plumbing Repair and Installation
Sump Pump Installation and Repair
Clogged Toilet Repair
Water Heater Installation and Repair
Tankless Water Heater Installation and Repair
Air Conditioning Solutions:
Air Conditioning Repair and Maintenance
Air Conditioning Installation and Replacement
Air Handler Repair Installation and Replacement
Evaporator Coil Repair and Replacement
Speedy Heating Service:
Heater Repair and Maintenance
Heater Replacement and Installation
Furnace Repair and Maintenance
Furnace Installation and Replacement
Heat Pump Installation and Repair
Boiler Repair and Installation
Electrical Solutions:
Electrical Installation and Repair
Call (703) 348-9881and enjoy high-quality AC, heating, electrical, and plumbing service for your Fairfax, VA home today.