Expert Services, Guaranteed Results!
Proudly Serving Northern Virginia Since 2009
Northern Virginia Air Conditioning Specialists
Friendly & Highly Qualified Professionals Serving Prince William County & Beyond
At Reddick & Sons, we know when summer is at its peak, few things are more important than ensuring that your AC system works reliably. Even top-quality air conditioning systems sustain wear and tear with daily use, and our Northern Virginia AC experts can be the ones you turn to for skilled repair when you need it. Our dedicated team of Northern Virginia air conditioning technicians has the experience necessary to diagnose problems at the source and provide you with targeted solutions so that they can be resolved before they grow into much larger issues.
---
To schedule your estimate, contact us today. We are eager to find out how we can assist you!
---
When Is it Time to Bring in the Experts?
As a homeowner, you may be asking yourself if it's worth the trouble of bringing in someone to take a look at your system. After all, maybe what you are experiencing is just a quirk of the system, and everything is otherwise fine! The unfortunate truth of the matter is that if your AC unit is behaving unusually in any way, it is almost certainly because something needs to be addressed.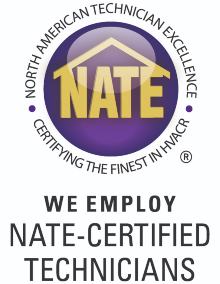 Here are the Northern Virginia AC services we provide:
There are several warning signs to look out for that may indicate you need professional assistance, such as:
Inconsistent cooling, or no cooling at all: When your home cools unevenly, it can be a sign that there is a refrigerant leak somewhere in your system. This problem also tends to lead to inefficiency in your system, since you will need to draw more power to achieve your desired temperature.
Your AC unit is making strange sounds: This generally indicates that your unit has parts that are worn out and need to be replaced.
The unit will not turn on: There are a wide variety of possibilities that could be contributing to this problem, which we can assist you with!
Let Reddick & Sons Help You
Our team of Northern Virginia AC Installation and repair specialists is proud to provide our customers with the friendly, professional service and top-quality workmanship we would want for our own families. At Reddick & Sons, everything we do is centered on creating a better customer experience. You can even receive same-day service* on your AC unit or system. We also provide services in Manassas, Bristow and the surrounding areas, so don't hesitate to call.
*subject to availability
For Further Reading:
Hear From Our Satisfied Customers
Past Customers Are Our Best Advertisements
"Finally, an organization that cares and will not overcharge."

Cindy C.

"The price was very reasonable, and I will definitely use Reddick & Sons if I have any plumbing needs in the future."

Eldon M.

"Fantastic customer service and techs you can completely trust."

Rene M.

"From start to finish was less than two hours, and everything works exactly as it should."

Kevin G.

"Prompt and competitively priced."

Sara K.