Installations available as soon as tomorrow*
Proudly Serving Northern Virginia Since 2009
Northern Virginia AC Installation & Replacement
Top-Quality Equipment & Expert Installation Throughout Prince William County
Replacing an integral part of your home's cooling system doesn't have to feel like the end of the world. When you choose to work with the qualified Northern Virginia AC installation experts at Reddick & Sons, you can enjoy peace of mind knowing that we are dedicated to helping you choose an AC unit that will work for you. We will install your new system with care and precision and will make sure that everything is working properly before we go. You can even receive same-day service* on the installation of your brand new AC unit.
---
Contact us at (703) 348-9881or use our online formfor professional Northern Virginia AC installation and replacement services from Reddick & Sons today.
---
Expert Installation Services You Can Rely On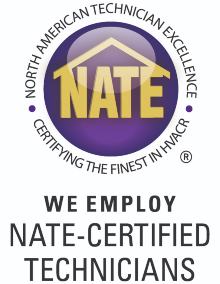 Do you know how to choose the right make and model to suit your home's energy efficiency and air distribution needs? Many homeowners who have worked with us for air conditioner installation, repairs and replacement have asked for guidance on the matter. Our Northern Virginia AC Installation team at Reddick & Sons can help you choose the right kind of air conditioning unit to replace your old model. We are able to provide you with valuable knowledge in selecting the right unit. Installing a unit of the right size can help reduce strain on your system and can help keep your monthly energy costs low.
Deciding Whether You Should Repair or Replace
The easiest way to tell if the time has come to replace or stop repairing your old air conditioning unit is to consider the age of the unit. If your unit is older than 15 years, replacing it with a newer model is a better investment of your time and money.
Older units lose their efficiency over time and, if you choose to repair your existing system, you may be losing money in the long run. Ask your Northern Virginia AC replacement professional how we can help you make the right choice for your comfort and energy needs by investing in a new, energy-efficient air conditioning unit today. Our AC technicians in Loudon County, Fairfax County, Prince William County, & the surrounding areas are on standby to help you with any air conditioning problems you may be encountering. Don't hesitate to call!
---
Get experienced AC installation in Bristow, Fairfax, Ashburn, Gainesville, and surrounding areas when you call (703) 348-9881or use our online formfor service today.
---
*subject to availability
Hear From Our Satisfied Customers
Past Customers Are Our Best Advertisements
"Thanks for helping turn in a somewhat stressful situation around rather quickly!"

Nikki Lee J.

"Reddick & Sons are honest, fair, and great to their customers."

Sarah Graham

"Kept me up to date every step of the way about what they were doing and how much it would cost to make the repairs."

Tracey C.

"Fantastic company! I will only be using them going forward."

Anna N.

"Thank you Reddick & Sons for always taking care of my family!"

Lauren H.