Installations available as soon as tomorrow*
Proudly Serving Northern Virginia Since 2009
Northern Virginia AC Installation & Replacement Services
Top-Quality Air Conditioning Equipment & Expert Installation
Replacing an integral part of your home's cooling system doesn't have to feel like the end of the world. When you choose to work with the qualified Northern Virginia AC installation experts at Reddick & Sons, you can enjoy peace of mind knowing that we are dedicated to helping you choose a new air conditioner that will work for you. We will install your new system with care and precision and will make sure that everything is working properly before we go. You can even receive next-day service* on the installation of your brand new AC unit!
---
Contact us at (703) 348-9881 or fill out our online form for professional Northern Virginia AC installation and replacement services from Reddick & Sons.
---
Expert Air Conditioner Installation Services in Fairfax, Ashburn, Gainesville & Surrounding Areas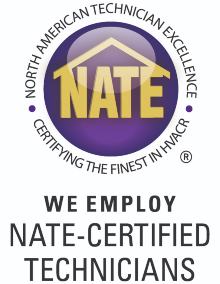 Do you know how to choose the right make and model to suit your home's energy efficiency and air distribution needs? Many homeowners who have worked with us for air conditioner installation and replacement have asked for guidance on the matter. Our Northern Virginia AC Installation team at Reddick & Sons can help you choose the right kind of air conditioning unit to replace your old model. We are able to provide you with valuable knowledge in selecting the right unit. Installing a unit of the right size can help reduce strain on your system and can help keep your monthly energy costs low.
What is a Load Calculation?
A load calculation is a method used to determine the cooling capacity required to maintain a comfortable indoor environment in a building. It takes into account factors like the building's size, insulation, windows, orientation, and local climate to calculate the ideal amount of cooling needed. This critical step ensures that your new AC system will be appropriately sized, preventing inefficiencies and ensuring optimal energy usage while maintaining a consistent and comfortable temperature indoors.
Should I Repair or Replace My Air Conditioner?
The easiest way to tell if the time has come to replace or stop repairing your old air conditioning unit is to consider the age of the unit. If your unit is older than 15 years, replacing it with a newer model is a better investment of your time and money.
Even with regular AC maintenance, older units lose their efficiency over time. If you choose to repair your existing AC system, you may be losing money in the long run. Ask your Northern Virginia AC replacement professional how we can help you make the right choice for your comfort and energy needs by investing in a new, energy-efficient air conditioning unit today. Our AC technicians are on standby to help you with any air conditioning problems you may be encountering.
At Reddick & Sons, our air conditioning services are second to none. Don't hesitate to call for service anywhere in Loudon County, Fairfax County, Prince William County, or the surrounding areas of Northern Virginia.
---
Get experienced AC installation in Bristow, Fairfax, Ashburn, Gainesville, or the surrounding areas when you call (703) 348-9881 or use our online form for service today.
---
*subject to availability
Hear From Our Satisfied Customers
Past Customers Are Our Best Advertisements
"Extremely responsive. Highly recommend this company!"

Michelle

"Prompt and competitively priced."

Sara K.

"Danny's work is second to none."

Roger J.

"This is 100% who you are looking for."

John U.

"showed up on time very polite and respectful of your home , most of all they were honest and fair , so to me they will forever have my business on that merit alone."

Ms. Blue