Your Trusted Plumbing, AC Repair, Heating & Electrical Services in Bristow
From clogged toilets to boiler repair, when you call Reddick & Sons at (703) 348-9881 you can expect the highest level of service no matter the complexity of the job. Learn how you can save by visiting our coupons page before you call, and browse our selection of online specials and discounts.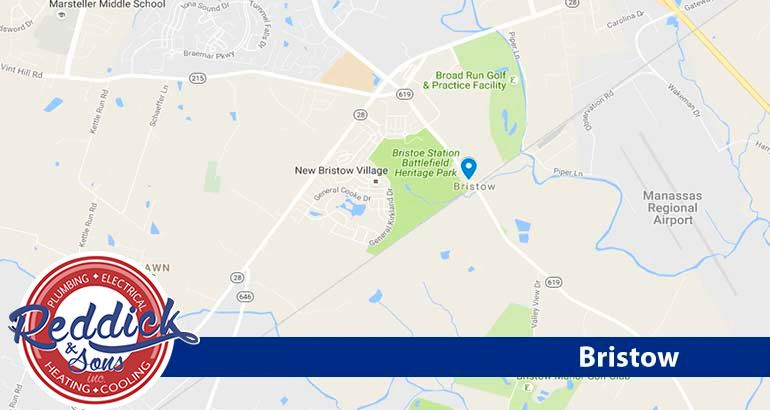 As a homeowner in Bristow, VA you know all too well the pros and cons of high water pressure. While it may be nice for your morning shower, it is not so nice for your pipes and appliances. High water pressure can wear down your pipes and cause them to burst, among other issues. The expert team at Reddick & Sons has the solution with pressure reducing valve installation. When you call for service, you'll be pleasantly surprised by our eagerness to help and find solutions that work for you. Enjoy top-notch service on plumbing, heating, cooling, and electrical services, all designed to keep your home comfortable and safe. Call today and find out why we're the preferred provider of total home comfort in the area.
Why have we been the "go to" experts for many residents in Bristow, VA, for years? Visit our reviews page to find out, then give us a call for service.
Your Trusted Local Plumber
Your local plumbers at Reddick & Sons are fully committed to providing professional commercial and residential plumbing services throughout the Bristow area. Whether you need thorough drain cleaning, water heater replacement, or whole-home repiping services, our expert team has you covered. Give us a call for your repairs, installations, or replacements on a full range of equipment and fixtures.
Air Conditioning Services & Heating Repair
Experiencing AC or furnace troubles? Rest easy with our expert team on your side. Our team has the experience and training to know when a repair will be the most cost-effective option or if replacement makes more sense.
If you notice any of the following signs, contact us for immediate furnace repair:
Decreased indoor air quality
Cracks in the furnace
Yellow pilot light
Unit powers on, then off
Similarly, look out for the following signs that indicate you should invest in AC repair:
Leaking refrigerant
Clogged condensate
Corroded wiring
Electrical malfunctioning
If your AC or furnace is over 10-15 years old, replacement is often the best option. Our knowledgeable team will work with you to come up with a solution that works for your budget and needs.
Reliable Electrical Repairs
Dealing with unreliable electricity is not an option for most homeowners. Fortunately, the local electricians at Reddick & Sons are ready to perform fast, reliable electrical repairs when you need it most.
Just some of the many electrical repair and replacement services we provide include:
Wall socket repair
Electrical wiring
220V circuits and plugs
Room addition electrical wiring
Don't hesitate to give us a call if you notice any of the electrical parts are not working to their full capacity. We're available around the clock to make sure your home is kept safe and comfortable.
Why Work With Us?
One of the things that sets us apart from the competition is our dedication to solving your unique problem. Some companies leave as soon as they hack together a solution, but not us. You can feel confident in the solutions we provide, our attention to detail, and our focus on customer satisfaction.
Enjoy the following benefits of calling us for service:
Upfront quotes for service
Same-day services
100% satisfaction guaranteed
Our Professional Services in Bristow, VA
Plumbing, cooling, heating, or electrical issue? We can help! Take a look at our list of services and contact us for speedy solutions today!
Plumbing Solutions:
Burst Pipe Repair
Gas Line Installation and Repair
Drain Cleaning Services
Sewer Line Installation and Repair
Kitchen Plumbing Repair and Installation
Sump Pump Installation and Repair
Clogged Toilet Repair
Water Heater Installation and Repair
Tankless Water Heater Installation and Repair
Air Conditioning Services:
Air Conditioning Repair and Maintenance
Air Conditioning Installation and Replacement
Air Handler Repair Installation and Replacement
Evaporator Coil Repair and Replacement
Heating Solutions:
Heater Repair and Maintenance
Heater Replacement and Installation
Furnace Repair and Maintenance
Furnace Installation and Replacement
Heat Pump Installation and Repair
Boiler Repair and Installation
Electrical Services:
Electrical Installation and Repair
Depend on experts to solve your indoor comfort needs in Bristow, VA. Do you need electrical, plumbing, heating, or AC services? We have you covered. Just give us a call at (703) 348-9881 today.