Expert Services, Guaranteed Results!
Proudly Serving Northern Virginia Since 2009
AC Repair in Northern Virginia
Same-Day* Air Conditioning Repair in Prince William, Loudoun, and Fairfax Counties
Is your air conditioning system working less efficiently than it used to? If you're experiencing issues like odd sounds, leaks, high indoor humidity, or short cycling, then contact our Northern Virginia AC repair experts at Reddick & Sons. We focus on providing reliable solutions and efficient air conditioning repairs for customers in Fairfax, Bristow, Manassas, Ashburn, Gainesville, and surrounding areas. We also provide new AC installations if your current unit is beyond repair.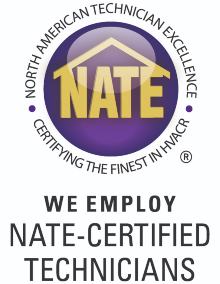 With Reddick & Sons, you can expect:
Same-day services, subject to availability
Convenient booking online or by phone
Experienced, NATE Certified technicians
Fair, upfront pricing with no surprises
Personalized solutions for a range of brands, makes & models
---
When you need speedy service, call (703) 348-9881 or use our online form to reach the Northern Virginia AC repair experts at Reddick & Sons.
---
Common Reasons Why Air Conditioners Break Down
Refrigerant leaks: If your refrigerant is leaking, it may be causing your system to overheat and break down.
Evaporator coil issues: Dirty, broken, or frozen evaporator coils are common AC issues.
Old or aging units: Air conditioners older than 15 years are more prone to issues and failure.
Incorrectly sized units: If your AC is too big or too small for your home, then it may be experiencing issues as a result.
Avoid AC Repairs with Air Conditioner Maintenance
Professional air conditioner maintenance is crucial for ensuring the longevity and efficiency of your AC unit. When you schedule your annual AC maintenance appointment with Reddick & Sons, our trained technicians can thoroughly clean and inspect the system, identifying and addressing any potential issues. We will check refrigerant levels, clean coils, lubricate moving parts, and test the overall performance. Professional maintenance not only improves cooling efficiency but also helps prevent breakdowns and costly repairs. Regular service from experts ensures your air conditioner operates at its best.
Here are some steps you can take in between professional maintenance visits to keep your AC unit running as efficiently as possible:
Check your hose connection regularly for leaks
Ensure that the condensation tubes are draining properly
Change your AC filter regularly (at least every 1-3 months depending on the type of filter you buy)
Keep plants at least 2 feet away from your outdoor unit whenever possible
Have your air ducts cleaned regularly and vacuum your vents
* Subject to availability
For Further Reading:
Hear From Our Satisfied Customers
Past Customers Are Our Best Advertisements
"This is 100% who you are looking for."

John U.

"Kept me up to date every step of the way about what they were doing and how much it would cost to make the repairs."

Tracey C.

"Extremely responsive. Highly recommend this company!"

Michelle

"Jan put a lot of energy into the issue and had a great attitude the whole time."

Andrew T.

"I have some other issues coming up soon and will give them a call and recommend them to others as well."

Linda Wright S.