Expert Services, Guaranteed Results!
Proudly Serving Northern Virginia Since 2009
Northern Virginia Furnace Repair
Servicing Electric & Gas Furnaces in Fairfax, Ashburn, Gainesville & Surrounding Areas
Broken furnace? Make your first call to Reddick & Sons for top-notch furnace repair services in Northern Virginia. When the chill of winter sets in and your furnace decides to act up, count on us to bring warmth back into your home swiftly and efficiently. Our commitment to excellence drives us to offer same-day furnace repair services*, ensuring your comfort remains uninterrupted.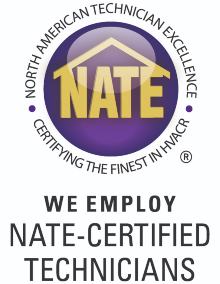 At Reddick & Sons, we take pride in our team of highly skilled technicians who hold NATE (North American Technician Excellence) certifications. This reflects our dedication to providing you with the highest quality of service and expertise in furnace repair. No matter the brand or model of your furnace, our technicians are well-versed in repairing and maintaining a wide range of systems.
Your comfort and satisfaction are our top priorities. Trust Reddick & Sons to restore your furnace to its optimal working condition, delivering reliable heating services you and your family can depend on throughout the cold winter months.
---
Call (703) 348-9881 to request same-day service* for Northern Virginia furnace repairs.
---
Do You Need Furnace Repairs?
For many residents of Northern Virginia, issues with their furnaces feel unexpected because they have gone so long without a professional inspection they are unaware of the status of their furnace. When you call Reddick & Sons, we can provide your furnace with a thorough inspection.
Whether you have had maintenance performed last month or last year, it's still important to keep an eye out for these signs that your unit may need repairs:
Poor air quality: Dust and debris in your home can aggravate allergies and make you sick more often, so if your home seems dusty and you feel ill, your furnace may be to blame.
Fluctuating power: If your furnace turns off and on again after you've turned it on, then something is wrong and you need immediate servicing.
Your energy bills are higher than usual: A furnace that isn't working properly will work less efficiently, which can cause your bills to creep up.
You hear odd noises when your unit is on: Banging, clanking, and whirring are not normal and should be investigated by a qualified heating expert.
You smell a natural gas or burning odor: This is an urgent safety concern. Immediately turn off your furnace and call for repairs.
Why Maintaining Your Furnace Is Important
Your furnace is one of the most important parts of your home's HVAC system but, unfortunately, many Northern Virginia homeowners put off having regularly scheduled furnace maintenance performed on their system. While these services may seem like no big deal or an unnecessary expense, failing to maintain your furnace may result in a sudden breakdown, issues with poor performance, or even shorter equipment lifespan leading to an early need for furnace replacement. All of these drawbacks will likely end up costing you more money to fix than the cost of annual maintenance appointments.
Here are some of the benefits you can enjoy from regular furnace maintenance:
Improved indoor air quality
Extended lifetime for your furnace
Consistent temperatures throughout your home
Reduced monthly energy bills
Peace of mind to know that your furnace is fully operational
*subject to availability
Hear From Our Satisfied Customers
Past Customers Are Our Best Advertisements
"Danny and his team were very responsive to my phone call, and they made my service a priority."

Former Customer

"Thanks, Danny ur the best!!!"

Londa J.

"I recommend him to all my friends and family!!!"

Tiffany H.

"Extremely responsive. Highly recommend this company!"

Michelle

"They promptly came, diagnosed the issue and remedied it. Great customer service!"

Anne Reilly N.