Expert Services, Guaranteed Results!
Proudly Serving Northern Virginia Since 2009
HVAC Technicians, Electricians & Plumbers in Fairfax, VA
Trusted Home Service Professionals in Fairfax
Are you looking for a company that can do it all? At Reddick & Sons, our expert technicians are standing by for all your plumbing, air conditioning, heating, and electrical needs in Fairfax. We are committed to the comfort of our community. We provide reliable cooling, heating, plumbing, and electrical services to residents in Fairfax. Whether you are looking for help with a leaking faucet, a broken heater, or need to install a new ceiling fan, you can turn to us for it all.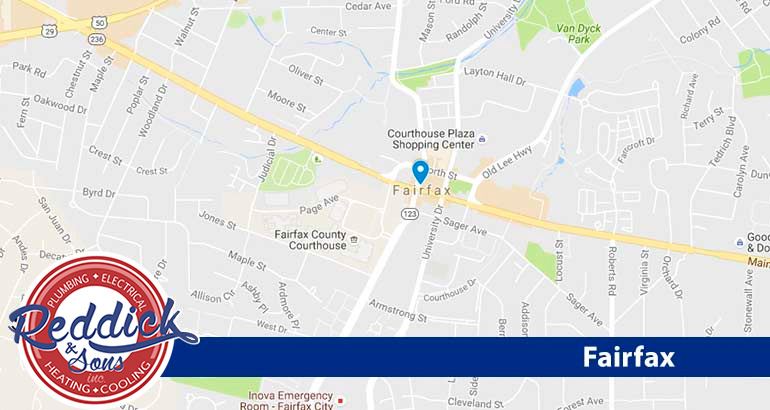 When you call us, you can rest assured you'll receive five-star service from professionals who truly care. We take the time to accurately diagnose issues before creating customized solutions that last. As your one-stop-shop for all home services needs, we'll ensure you can relax in your home. But don't just take our word for it! Take a look at our customer reviews and see why we are Fairfax's most trusted plumbing, HVAC, and electrical experts!​​
When you choose our Fairfax home service team you will also enjoy these added benefits:
100% customer satisfaction
Same-day service (subject to availability)
Clear, upfront pricing
Call (703) 348-9881 to request an appointment. Take advantage of savings when you visit our coupons page.
Hear From Our Satisfied Customers
Past Customers Are Our Best Advertisements
"Speedy service, great guy and solved our heating issue easily."

Sarah C.

"The only plumber, I'll ever use!"

Larry W.

"Thanks, Danny ur the best!!!"

Londa J.

"I highly recommend giving them a call!"

Amy D.

"Customer service is very important to me and the way Mr. Reddick was with my wife and kids was very respectful."

Carl J.
Fairfax Heating & Air Conditioning Services
Fairfax AC Repair, Installation & Maintenance
Struggling with less-than-reliable AC in your home or business? Fortunately, you have Reddick & Sons to provide reliable air conditioning service when you need it most. When you call for service, you'll enjoy fast, reliable service you can count on no matter what time you call. Our helpful Fairfax heating and air team will listen closely to your needs and recommend the best course of action to suit your needs and budget.
Our Air Conditioning Solutions Include:
Air Conditioning Repair and Maintenance
Air Conditioning Installation and Replacement
Air Handler Repair Installation and Replacement
Evaporator Coil Repair and Replacement

Heating Services in Fairfax, VA
Has your furnace, boiler or heat pump seen better days? If it is more than 10-15 years old, you may want to consider replacing your current unit with a newer, more efficient model. However, if your furnace is fairly new and experiencing issues, heating repair may be the more cost-effective option. Call a trusted Fairfax heating repair professional to help you consider your options and perform a safe, effective repair or installation.
Signs you need heating repair:
Your electrical bill is higher than usual
Your home has uneven cold spots
You keep needing to adjust the heating temperature
Your heater is making odd noises
You have poor indoor air quality
Your furnace pilot light is yellow
There are unpleasant smells coming from your heating system
Short-cycling
If you notice any of the following signs with your heating system, we highly encourage you to contact a professional as soon as possible to get the situation inspected and properly taken care of.

Trusted Plumber in Fairfax, VA
At Reddick & Sons, we are committed to high-quality plumbing services throughout Fairfax, VA, and the surrounding area. Whether you need water heater repair, drain cleaning or something in between, we have you covered with cost-effective solutions you can count on. When you call our helpful team for service, you can rest assured that we will listen closely to your needs and recommend the best course of action based on your unique plumbing needs.
Our Fairfax plumbers proudly provide the following services, including:
Burst Pipe Repair
Gas Line Installation and Repair
Drain Cleaning Services
Sewer Line Installation and Repair
Kitchen Plumbing Repair and Installation
Sump Pump Installation and Repair
Clogged Toilet Repair
Water Heater Installation and Repair
Tankless Water Heater Installation and Repair
Electrician in Fairfax, VA
Electricity would be tough to live without since it powers many appliances we rely on every day. If you are experiencing problems with your electrical system, or you live in a home with older, worn-out wiring and circuits, you may be at risk. Call a licensed Fairfax electrician to perform fast, effective electrical repairs and installations in order to avoid harm to you or your home. Some of the electrical services we offer property owners include electrical wiring repair and installation, panel box upgrades and installation, wall socket repair, surge protection, and more.
Call Today to Schedule a Service!
There are lots of things that can go wrong when you own a home, but our goal is to help homeowners in Fairfax feel confident that they can quickly resolve any problems that may arise. That's why we offer services ranging from AC installation and repair to tankless water heater installation, electrical services, and much more.
Call (703) 348-9881 and enjoy high-quality AC, heating, electrical, and plumbing service for your Fairfax, VA home today.