Your Trusted Gainesville Plumber, AC Repair, Heating & Electrician
Enjoy reliable AC, heating, electrical, and plumbing installation and repair services from qualified experts when you call Reddick & Sons at (703) 348-9881 today. Our commitment is to provide exceptional service at cost-effective rates, so make sure to visit our coupons page now.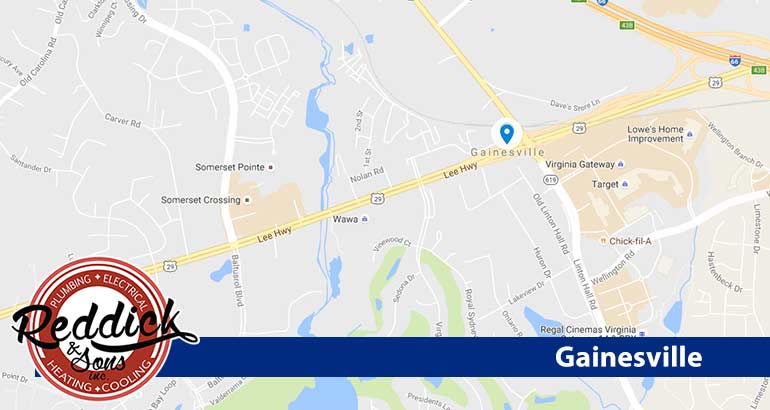 Summers in Gainesville, VA, are no joke. Without reliable AC you may not be the most pleasant person to be around. That's why you need a trusted cooling expert on your side to keep you cool and comfortable all summer long. At Reddick & Sons, we not only provide AC services, but also heating, plumbing, and electrical repairs and installations. Our caring, knowledgeable technicians are licensed and trained to provide you with speedy, reliable solutions to your home comfort needs.
Many of your neighbors in Gainesville, VA, trust in our team when it comes to maintaining their HVAC, plumbing, and electrical systems. Visit our reviews page to see why so many area homeowners choose us for service.
Quality Plumbing Repairs & Installations
If you need high-quality commercial and residential plumbing services throughout Gainesville and the surrounding areas, count on Reddick & Sons. We're your go-to local plumbers specializing in professional plumbing repairs, installations, and replacements on a variety of equipment and fixtures. Call us for everything from drain cleaning to whole-house repiping. Whatever your needs, we are here to help you achieve your home improvement goals.
AC Repair & Furnace Services You Can Count On
Is your furnace showing signs of trouble? Call Reddick & Sons for immediate furnace repair if you notice any decrease in indoor air quality, cracks on the unit itself, a yellow pilot light, or the unit powering on and off. If your furnace is older than 10-15 years, it may be more cost-effective to replace than repair the unit. Our expert technicians will perform your new heating installation with absolute precision and care to ensure safe, efficient operation.
There is nothing more frustrating than a broken AC in the middle of summer. Luckily, you have Reddick & Sons to provide reliable air conditioning repair. If your AC is over 15 years old, replacement might be the most cost-effective option. Our expert team will help you choose the best air conditioner for your needs and perform a safe, efficient installation.
Your Local Electrician
We often take for granted electric lights and modern conveniences, but without access to reliable electricity, modern homeowners cannot run even their heating or cooling systems. Fortunately, the local electricians at Reddick & Sons are available to provide fast, reliable electrical repairs whenever you need it.
Here are some of the many electrical replacement and repair services we provide:
Wall socket repair
Lighting fixture installation
Panel Box upgrades and installation
Electrical wiring
Give us a call if you notice any of your electrical parts are to functioning to their fullest to keep your home's appliances operating safely and avoid any major inconveniences.
Why Choose Our Team?
At Reddick & Sons, we offer a wide selection of services to help keep you comfortable and safe at home, including electrical repair, furnace installation, heating service, AC repair, plumbing installation, and much more. Our goal is to go above and beyond with every service we provide.
When you choose Reddick & Sons for all your indoor comfort needs you will also enjoy these added perks:
Upfront, clear quotes for service. Our technicians will always provide you with a quote for service before we begin working because our goal is to be transparent with our customers about what needs to be done and what it will cost.
We guarantee you'll be happy with our service. We offer a 100% satisfaction guarantee with every service we provide, which means you will always be pleased with the results of our repair, installation, and replacement services.
Our Services in Gainesville, VA
How can we help you? Take a look at this list of services available in your community and give us a call.
Expert Plumbing Service:
Burst Pipe Repair
Gas Line Installation and Repair
Drain Cleaning Services
Sewer Line Installation and Repair
Kitchen Plumbing Repair and Installation
Sump Pump Installation and Repair
Clogged Toilet Repair
Water Heater Installation and Repair
Tankless Water Heater Installation and Repair
Air Conditioning Services:
Air Conditioning Repair and Maintenance
Air Conditioning Installation and Replacement
Air Handler Repair Installation and Replacement
Evaporator Coil Repair and Replacement
Professional Heating Service:
Heater Repair and Maintenance
Heater Replacement and Installation
Furnace Repair and Maintenance
Furnace Installation and Replacement
Heat Pump Installation and Repair
Boiler Repair and Installation
Reliable Electrical Services:
Electrical Installation and Repair
Call (703) 348-9881 and enjoy fast, professional plumbing, AC, heating, and electrical service in Gainesville, VA, today.