Expert Services, Guaranteed Results!
Proudly Serving Northern Virginia Since 2009
Leesburg Plumbers, Electricians & HVAC Service Technicians
Trusted Home Service Experts in Leesburg, VA
​Finding a quality plumbing, heating, air conditioning, and electrical company in Leesburg, VA, doesn't have to be difficult. At Reddick & Sons, we make the decision easy with hassle-free service and top-quality workmanship. We're available around the clock to ensure your home or business stays safe and comfortable whether you need us in the middle of the night or during the workday.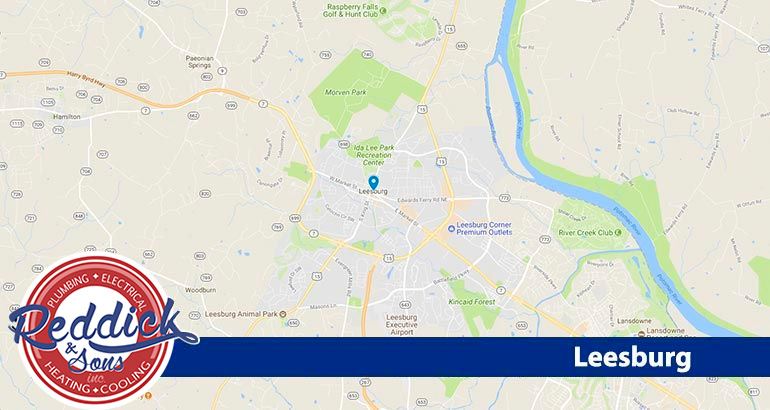 We provide the following services, and more:
Plumbing Installations and Replacements
Plumbing Repairs
Plumbing Maintenance
Electrical Installations and Replacements
Electrical Repairs
Electrical Maintenance
HVAC Installations and Replacements
HVAC Repairs
No plumbing, electrical, or HVAC job is either too big or too small for us to handle. Want to see why we're one of the leading choices for plumbing, HVAC, and electrical services? Check out our reviews page to find out.
---
Looking for a reliable plumbing, air conditioning, heating, and electrical company in Leesburg, VA? Call Reddick & Sons at (703) 348-9881 to schedule an appointment and save money on your next service when you access our full selection of coupons.
---
Comprehensive Plumbing Services in Leesburg, VA
Reddick & Sons strives to be your go-to team for all of your plumbing installation and repair needs. From water heater installations to repiping to drain cleaning and anything in between, our Leesburg plumbers have the right combination of experience and knowledge to handle your plumbing services at a price you can agree on.
If you notice any problems with your plumbing systems, it is important to contact a plumbing professional as soon as possible. Leaving a plumbing problem unnoticed can lead to further damage and costly repairs that can be avoided with timely services. Give us a call today for help with any of the following:
Water Heater Repair & Replacement
A water heater problem can't afford to go unresolved for long. If you have no hot water, hot water that runs out very quickly, poor temperature control, a tank leak, or any other problem with this essential appliance, give us a call as soon as possible for quality water heater repair in Leesburg. If your water heater is at the end of its service life and the issue you're experiencing cannot be cost-effectively repaired, we also offer complete water heater replacement services.
Tankless Water Heater Installation
In the market for a new water heater? Consider purchasing a tankless system to enjoy more energy-efficient performance, longer equipment life, convenient small size, and hot water on demand! Homeowners throughout the Leesburg area love their tankless water heaters—call us today to see if this upgrade is right for you!
Drain Cleaning
Clogged drains can be smelly and gross, and the longer they are left unresolved, the greater the chance that they'll turn into a bigger problem. Whether you've got a slow shower drain, a toilet that won't flush, or a backed up kitchen sink, our Leesburg drain cleaning services fit the bill every time.
Gas Line Services
Our Leesburg plumbers are also licensed gasfitters who can safely install, repair, and replace natural gas lines. Call now to schedule a service appointment or to request a same-day* repair appointment (*subject to availability).
Burst Pipe Repair
Burst pipe? Don't panic. Turn off your water from your main water valve, lay down towels to soak up as much water as possible, and contact Reddick & Sons immediately. We offer upfront quotes, prompt response, and stellar workmanship to homeowners and commercial property managers in the Leesburg area.
Kitchen & Bathroom Plumbing
Need a new faucet or sink installed? Time for a brand new shower or tub? Or maybe you need repairs for a jammed or burned out garbage disposal? Whatever you need to improve your kitchen or bathroom, our plumbers in Leesburg have you covered.
Sewer Line Services
A broken sewer line is an urgent plumbing problem that demands quick attention. If you're experiencing a sewage backup, smell sewage odors on your property, or have noticed strange puddles of water in your yard with no apparent cause, get in touch with Reddick & Sons and we'll check it out for you. We provide fast, reliable sewer line repair, installation, and replacement services in Leesburg.
Sump Pump Services
Keep your home protected from flooding with a powerful basement sump pump. Contact us today for effective sump pump repairs, replacements, installations, and maintenance services in Leesburg.
Need AC or Furnace Repair or Replacement?
AC and furnace problems can be a hassle, but working with our friendly team means you can enjoy fast repairs that will get you back to the comfort of your home in no time. Work with us for the ease of service you deserve and the high level of workmanship needed to ensure your air conditioner or furnace repair or replacement is carried out correctly.
Our heating and air conditioning services in Leesburg, VA include the following:
Heater Repair
Heater Installation
Furnace Repair
Furnace Installation
Heat Pump Services
Boiler Services
Air Conditioning Repair
Air Conditioning Installation
Air Handler Services
Evaporator Coil Services
Call for heater repair if you notice any of the following signs:
Heater powers on then off
Lower indoor air quality
The unit itself is cracked
Yellow pilot light
If you notice any of these signs, get in touch with our expert Leesburg heating and air team for repair. We'll be able to diagnose the problem and provide you with the speedy repair you need.
Professional Electrical Repairs
While some household repairs are fine to DIY, electrical repair is not one of them. Not only is it dangerous to attempt to perform an electrical repair by yourself and puts you and your family or employees at risk, but it can also cost you high electric bills as well. The professionals Leesburg electricians at Reddick & Sons have the experience and knowledge to ensure your electrical repairs and installations are done properly the first time.
How can we help you?
Electrical wiring
Panel box upgrades and installation
Lighting fixture installation
Wall socket repair
And more!
---
Enjoy fast, accurate plumbing, heating, air conditioning, and electrical services in Leesburg, VA when you call (703) 348-9881 today.
---
Hear From Our Satisfied Customers
Past Customers Are Our Best Advertisements
"Fantastic customer service and techs you can completely trust."

Rene M.

"Not only was the job done professionally and efficiently but Danny went above and beyond."

Megan F.

"I highly recommend giving them a call!"

Amy D.

"The professionalism and responsiveness absolutely exceeded all expectations."

Ryan M.

"I highly recommend you give them a call!!!"

Stephen W.