Expert Services, Guaranteed Results!
Proudly Serving Northern Virginia Since 2009
Warrenton Plumbing, Air Conditioning Repair, Heating & Electrical Services
Providing Expert Services for You and Your Home
Warrenton, VA residents understand the value of a good plumbing, heating, air conditioning, and electrical company. At Reddick & Sons, our customers are our priority, and we take every measure to ensure that you enjoy the safest, highest-quality service possible.
See why we're one of the leading choices for plumbing, HVAC, and electrical services; visit our reviews page to find out.
In search of a good plumbing, air conditioning, heating, and electrical company in
---
Warrenton, VA? Call Reddick & Sons at (703) 348-9881 to request immediate service. Don't forget to download our latest coupons for savings on your next appointment.
---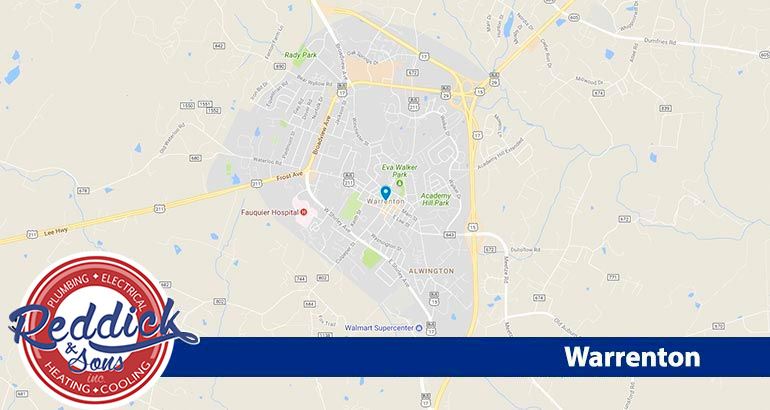 Top Quality Plumbing Solutions to Meet Your Needs
We strive to be your source for all of your plumbing service needs, we have the expertise to get the job done right the first time. Whether it's:
a water heater repair,
drain cleaning,
whole-home repiping solution
or something in between,
How to Know if You Need to Repair or Replace Your HVAC System
AC and furnace problems are the last things anyone wants to deal with, but wear and tear of your HVAC system is a natural part of the aging process. Working with our expert team, we'll inspect your system and find the source of the problem in order to determine the best solution. If your furnace or air conditioner is more than 10-15 years old and giving you problems, then replacement is often the best answer. However, if it is still fairly new, then repair should suffice. Rest assured we'll always recommend the most cost-effective solution for you.
Professional Electrical Repairs
Some household repairs are fine to do yourself, but electrical repair is not one of them. It is not only dangerous and can put you and your loved ones at risk of electrical shock or fires, but it can also cause your electric bills to rise, as a DIY repair will not often be the most efficient one.
We're proud to offer the following electrical services:
Electrical wiring
Lighting fixture installation
Panel box upgrades and installation
Wall socket repair
And more!
Hear From Our Satisfied Customers
Past Customers Are Our Best Advertisements
"This company is prompt, reliable, and friendly!"

T. B.

"Thank you Reddick & Sons for always taking care of my family!"

Lauren H.

"showed up on time very polite and respectful of your home , most of all they were honest and fair , so to me they will forever have my business on that merit alone."

Ms. Blue

"Reddick & Sons are honest, fair, and great to their customers."

Sarah Graham

"Danny's work is second to none."

Roger J.