Expert Services, Guaranteed Results!
Proudly Serving Northern Virginia Since 2009
Plumber, Electrician & HVAC Expert in Centreville, VA
Centreville Plumbing, Electrical, Heating & AC Services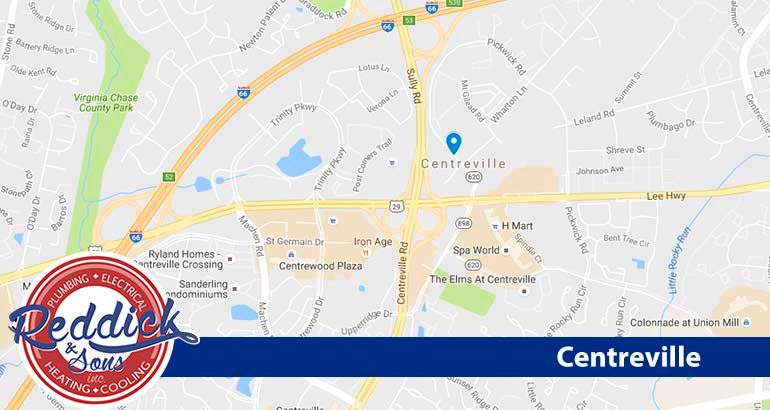 ​Do you know who to call when you start experiencing problems with your home's heating and cooling system? What about issues with your plumbing or electrical? Luckily Reddick & Sons provides fast, professional service and solutions to problems in all of these areas, so you only ever need to call one place for reliable service maintaining your home and ensuring your comfort. From heater installation to residential plumbing to electrical services and AC repair, you can count on us. We're proud to offer a wide selection of reliable, professional services in a variety of areas to help you maintain your home and stay comfortable indoors. Keep reading to discover our services.
Why are so many of your neighbors in Centreville, VA, trusting in our experts? Visit our reviews page and see their testimonials for yourself. Discover the kind of peace of mind that comes from working with licensed professionals.
---
Call (703) 348-9881 to request an appointment for plumbing, electrical, heating, and air in Centreville, VA. We're committed to delivering fast, cost-effective solutions; save even more on your next service by visiting our coupons page!
---
Local Plumber In Centreville, VA
Has your water heater suddenly stopped producing hot water? Or maybe you have a tough clog and need drain cleaning to get rid of the problem for good. Whatever your plumbing problem, Reddick & Sons has a solution you can rely on. We are your local plumbers ready to make sure your home stays safe and comfortable.
​Our Plumbing Solutions Include The Following:
Burst Pipe Repair
Gas Line Installation and Repair
Drain Cleaning Services
Sewer Line Installation and Repair
Kitchen Plumbing Repair and Installation
Sump Pump Installation and Repair
Clogged Toilet Repair
Water Heater Installation and Repair
Tankless Water Heater Installation and Repair
Signs You Need to Call A Plumber
Are you wondering whether your home or business is in need of plumbing repairs? There are certain things that you can look out for that will help you determine whether you need to call a plumber.
These signs include the following:
No hot water
Low water pressure
No water at all
Leaking pipes or faucets
Your toilet keeps getting clogged or overflowing
Your bathtub or shower won't drain, or you notice slow drainage
Frozen pipes
Centreville Drain Cleaning Services
Are you having a problem with fruit flies in your home? Have you noticed that your drains are slow to drain? If the answer is yes, then chances are that you have sewage in your drains that needs to be eliminated. Our plumbing team here at Reddick & Sons can help with any drain problem that you may be faced with. No drain issue is either too big or too small for us to handle. We also provide our clients with same-day emergency services, to tackle all of your plumbing right then and there.
Some signs that your drains need attention include the following:
Your drains are slow
You have water back up in your showers, bathtubs, or sinks
There are unpleasant odors coming from your drains
Unpleasant smells coming from your drains
Your drains clog frequently
Your drains are making strange noises
You have multiple clogs at the same time
You notice fruit flies in your home
Your toilets are overflowing
You constantly use a liquid drain dissolvent to unclog your drains
If you notice any of the signs mentioned above, it's important to contact a professional plumber as soon as possible to get the situation inspected and properly taken care of. Overlooking a drain problem may lead to worse damage and costly repairs that you can avoid with timely drain cleaning services.
Quality AC Service in Centreville, VA
You shouldn't have to deal with an unreliable air conditioner, especially in the middle of summer. Count on our Centreville air conditioning team for fast, efficient air conditioning service in Centreville to get your cooling system back up and running smoothly. We will listen closely to your needs and determine whether repair or a new AC installation makes the most sense in your situation.
Our Air Conditioning Services Include The Following:
Air Conditioning Repair and Maintenance
Air Conditioning Installation and Replacement
Air Handler Repair Installation and Replacement
Evaporator Coil Repair and Replacement
If you notice any issues with your air conditioner, we highly suggest that you call a professional as soon as possible to get the situation inspected. Professional AC service is important because it can help you prevent potential costly damages.
Signs You Need AC Repair
As temperatures start to rise, having a properly functioning air conditioner is important for ensuring comfortable indoor air.
Here Are Some Sings That You Need To Repair Your Air Conditioner:
Your air conditioner is blowing out warm or not cool enough air
You notice poor airflow
Your home or business feels more humid than normal
Your air conditioner is leaking
You notice unpleasant odors coming from your AC unit
Your air conditioner is making odd noises.
If you notice any of these signs with your air conditioners, it is important to contact a professional as soon as possible to get the situation inspected and properly taken care of. Leaving an air conditioning problem unnoticed can lead to further damage and costly replacements that can be avoided.
Safe Furnace Repair & Installation
Is your furnace more than 10-15 years old? If so, you may want to consider replacing your heating unit with a newer, more efficient model.
If your heater is still relatively new, but you are experiencing any of the following troubles, repair may be the best course of action:
Decreased indoor air quality
Cracks in the furnace
The pilot light has turned yellow
Unit powers on and off
Contact Reddick & Sons to schedule an inspection if you suspect a problem with your furnace. We will dispatch one of our Centreville heating experts who can spot the source of the problem and work with you to find an effective, cost-efficient solution.
We Offer The Following Heating Solutions:
Heater Repair and Maintenance
Heater Replacement and Installation
Furnace Repair and Maintenance
Furnace Installation and Replacement
Heat Pump Installation and Repair
Boiler Repair and Installation
Professional Electrician In Centreville, VA
Hiring a professional for your electrical repairs and installations is not just a good idea—it's essential if you want to avoid injury and damage to your home. Professional electricians go through extensive training and use professional-grade tools for a reason. Whether you are looking to upgrade your panel box, repair a wall socket, install new lighting, or anything in between, count on the licensed Centreville electricians at Reddick & Sons to ensure safe and proper installation.
We Offer the Following Electrical Services:
Electrical installation
Electrical repair
Electrical wiring
Electrical Inspections
Outlet and light switch repair
Panel box upgrades and installation
Lighting fixture installation
Pools, Jacuzzis & hot tubs
Ventilation fans
Attic fans
Ceiling fans
Electric vehicle chargers
Backup generators
Outdoor lighting
Whole-home surge protection
Fire & smoke alarms
If you are looking for an electrician in Centreville who you can trust, look no further. Our team of experts has years of combined experience and will go above and beyond to ensure the safety of you and your family.
Work With Our Team
Our goal is to provide the most comprehensive and high-quality solutions to our customers, which means we always go above and beyond with every service we carry out. Whether it's an AC replacement, sewer line repair, furnace installation, or electrical wiring replacement, you can depend on Reddick & Sons for trustworthy solutions.
Enjoy the following benefits of working with our skilled Centreville home service team:
Upfront pricing
Same-day service
100% satisfaction guaranteed
Suggested Reading:
---
Enjoy professional electrical, heating, cooling, and residential plumbing repairs in Centreville, VA. Call (703) 348-9881today and experience the difference quality makes when you contact our expert team.
---
Hear From Our Satisfied Customers
Past Customers Are Our Best Advertisements
"Finally, an organization that cares and will not overcharge."

Cindy C.

"I can't believe how simple they made something not so seem."

Chloé D.

"They always clearly explain the problem and provide you with options to address it."

William M.

"Kept me up to date every step of the way about what they were doing and how much it would cost to make the repairs."

Tracey C.

"We use Reddick & Sons for all of our residential and commercial needs."

Amy D.