Expert Services, Guaranteed Results!
Proudly Serving Northern Virginia Since 2009
Reliable Plumbing, AC Repair, Heating & Electrical Services in Chantilly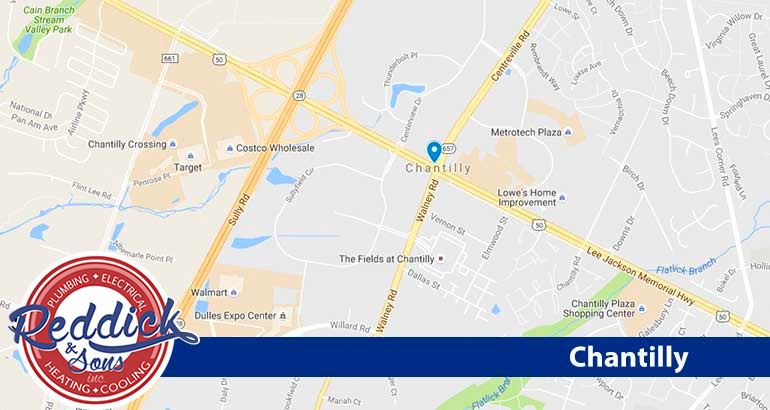 Reddick & Sons, Inc. is your one-stop-shop for all your home services needs in Chantilly. Whether you need an electrician, plumber, or HVAC technician, we've got you covered! Our skilled team has extensive experience handling everything from a broken air conditioner to leaking pipes.
As a locally owned and operated company, we treat each client as part of the family. This means providing 5-star service at affordable prices. With our 100% satisfaction guarantee, you can rest assured you're in good hands! Take a look at what our clients have to say and see why we are Chantilly's most trusted team of plumbers, electricians, and HVAC professionals.
Plumber in Chantilly, VA
At Reddick & Sons, our dedicated Chantilly plumbers can solve all your commercial and residential plumbing problems. Whether you're dealing with a clogged toilet or a leaking pipe, we've got you covered. We accurately diagnose each situation before creating customized solutions that match your needs and budget.
Our plumbing services include:
Burst Pipe Repair
Gas Line Installation and Repair
Drain Cleaning Services
Sewer Line Installation and Repair
Kitchen Plumbing Repair and Installation
Sump Pump Installation and Repair
Clogged Toilet Repair
Water Heater Installation and Repair
Tankless Water Heater Installation and Repair
Chantilly Drain Cleaning
It is common for homeowners to overlook a drain problem, or to let routine drain maintenance fall by the wayside. However, drain clogs are common problems that can cause a number of issues within your home's plumbing system. Our team of plumbers here at Reddick & Sons are available to help with any drain problem that you are faced with! No plumbing difficulty is either too big or too small for us to handle. We also provide our clients with same-day emergency services!
Some signs that you need drain cleaning services include the following:
Standing water
Water backup
Slow drainage
Unpleasant smells coming from your drains
Frequent drain clogs
Gurgling sounds
Drain flies in your home
An overflowing toilet or multiple overflowing toilets
You are frequently using a drain cleaner to unclog your drains
If you notice a drain problem or haven't had your home's drains checked by a professional in the past couple of years, we strongly encourage you to contact a licensed plumber as soon as possible. Leaving a drain problem unnoticed can lead to further damage and costly replacements that can be avoided with timely service.
Quality Air Conditioning Services in Chantilly
Broken AC with nowhere to turn? Count on our Chantilly AC repair and cooling solutions from the trusted team at Reddick & Sons. We make ourselves available around the clock to make sure your home stays comfortable and safe.
Signs your air conditioner needs repair include:
Electrical malfunctioning
Corroded wiring
Clogged condensate
Leaking refrigerant
Reliable Furnace Services
Is your furnace malfunctioning even though it's only several years old? If so, look out for the following signs that indicate heater or furnace repair is advisable:
Pilot light has turned yellow
Unit powers on then off
Cracks in the unit itself
A decrease in indoor air quality
If your unit is more than 10-15 years old, furnace installation may be the best course of action and will likely save you money in the long run. Contact our team of experts today to come out for an inspection of your heating unit. We'll spot the problem and help you determine the best solution for your budget and needs.
Chantilly Electricians You Can Count On
When you're experiencing electrical problems, it can be tempting to perform a DIY repair or installation. However, this is extremely unwise. Why? Old, worn-out wiring and circuits can be a serious hazard and require the hand of an experienced professional electrician.
At Reddick & Sons, our Chantilly electricians offer a range of services including:
Wall socket repair
Electrical wiring
Panel box upgrades
Lighting fixture installation
When you need electrical repairs and installations, don't attempt to do it yourself. Trust the team that has been performing electrical services for years to keep your home safe and free from danger.
Why Work With Us
At Reddick & Sons, our goal is to make sure that every home is kept safe and well-maintained. That's why we always go above and beyond with every service carry out.
Just some of the benefits you'll enjoy when you call for service include:
Suggested Reading:
Hear From Our Satisfied Customers
Past Customers Are Our Best Advertisements
"showed up on time very polite and respectful of your home , most of all they were honest and fair , so to me they will forever have my business on that merit alone."

Ms. Blue

"I highly recommend you give them a call!!!"

Stephen W.

"This company is prompt, reliable, and friendly!"

T. B.

"Not only was the job done professionally and efficiently but Danny went above and beyond."

Megan F.

"I can't believe how simple they made something not so seem."

Chloé D.