Expert Services, Guaranteed Results!
Proudly Serving Northern Virginia Since 2009
Heat Pump Repair & Replacement in Northern Virginia
Choose Efficiency, Consistency & Reliability
Your heat pump is tasked with ensuring that your indoor air is always the same consistent temperature, which means timely heat pump repair and maintenance should be an important part of your annual maintenance schedule. At Reddick & Sons, our heating and cooling experts are available to help you install a new heat pump system or to provide fast, effective Northern Virginia heat pump repair to keep your system working reliably all season long. We can even provide you with same-day services* to help keep you warm.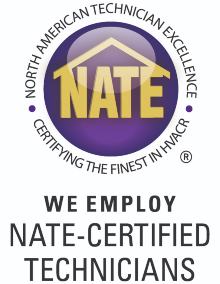 ---
Call Reddick & Sons at (703) 348-9881 for heat pump installation throughout Northern Virginia, including Fairfax, Ashburn, Gainesville, and surrounding areas.
---
How Does a Heat Pump System Work?
Heat pump systems are modern, energy-efficient heating and cooling systems that operate by transferring air from one location to another. This means that in the hot summer months your heat pump system will pull hot air from inside your rooms and pump it outside, leaving only cool comfortable air; in the winter the heat pump system will pull warm air from outdoors and will pump it inside to help keep you warm and cozy. Not only are these systems incredibly energy efficient, but they are also ideal for homes prone to issues with humidity. Not only will you save money by installing a new heat pump system, but you can say goodbye to worries about mold and mildew as a result of excessive indoor humidity.
Is a Heat Pump System Right for You?
Despite how efficient and cost-effective these systems can be, many of our customers still ask "what's a heat pump system?" Our Northern Virginia heat pump installation technicians can suggest it as an alternative way of heating and cooling your home.
Some benefits you can enjoy when you install one of these systems include:
Less equipment: Heat pump systems can both heat and cool your home, which means that you need less equipment overall. This also means there are fewer mechanical issues that can arise.
Energy-efficient systems: Heat pump systems move air from one area to another instead of attempting to heat or cool air that's already present. This means they have to work less hard and use less energy to deliver the same results as a traditional HVAC system.
---
Contact our team for efficient Northern Virginia heat pump installation and repair services.
---
*subject to availability
Hear From Our Satisfied Customers
Past Customers Are Our Best Advertisements
"We use Reddick & Sons for all of our residential and commercial needs."

Amy D.

"Went above and beyond to get us heat and up and running again!"

Tony L.

"I wouldn't call anyone else for service and have used Danny and his team several times this year."

Maggie B.

"Speedy service, great guy and solved our heating issue easily."

Sarah C.

"Not only was the job done professionally and efficiently but Danny went above and beyond."

Megan F.