Expert Services, Guaranteed Results!
Proudly Serving Northern Virginia Since 2009
Ashburn Plumbing, Heating, Cooling & Electrical
Ashburn, VA residents know well the value of a good plumbing, heating, AC and electrical company. Cold winters and hot summers make it necessary to have someone on hand to call. At Reddick & Sons, we can handle all of your plumbing, heating, air conditioning, and electrical needs. Whether you need water heater repair, heater replacement, panel box upgrade, or something in between, we're the company to trust.
Find out why so many area residents count on us for all of their plumbing, heating, air conditioning and electrical service needs when you visit our reviews page.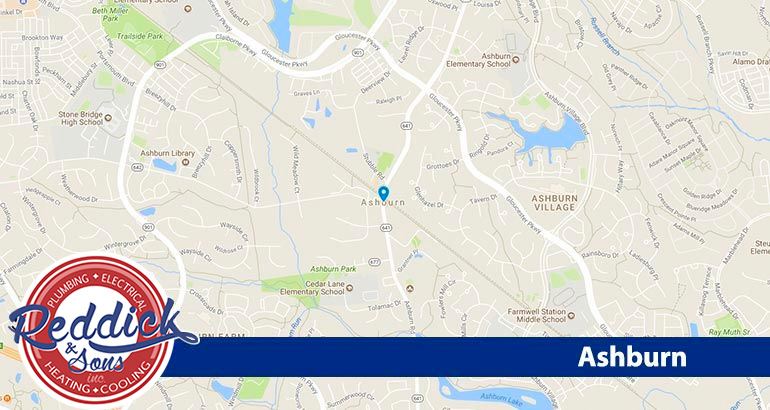 ---
Need reliable plumbing, air conditioning, heating and electrical repairs or installations in Ashburn, VA? Call Reddick & Sons at
(703) 348-9881
for top-quality service, plus save on your next service with our full selection of
coupons.
---
Trusted Ashburn Plumbing Solutions to Meet Your Needs
At Reddick & Sons, we strive to be your go-to source for everything plumbing, heating, air conditioning, and electrical. We have more than a decade of local experience providing both commercial and residential plumbing services to the area.
Whether you need drain cleaning, water heater repair, repiping services, or another plumbing service, you can count on our Ashburn plumbers to provide you with a timely solution that works.
Need AC or Furnace Repair or Replacement?
Dealing with air conditioner or furnace troubles is the last thing any homeowner or business owner wants but, with our expert team on your side, you can rest easy knowing the problem is being handled safely. Calling our Ashburn heating and air team for service means you'll enjoy fast, accurate heater and AC repairs and installations when you need them most.
If you notice any of the following, get in touch with our expert team for HVAC repair:
Air isn't as cold as it used to be
Strange noises coming from the unit
Bad odor coming from the unit
Lack of sufficient air flow
Moisture levels are too high
Any of these signs indicate the need for air conditioner repair. Get in touch with our experts for a speedy AC repair and restore the cool comfort of your home in no time.
Why Invest in Professional Electrical Repairs?
While it may be tempting to try your hand at electrical repairs, it's a much better idea to call a professional electrician in Ashburn, VA. From wall socket repairs to electrical wiring, panel box installations, and everything in between, it's best to hire someone who has the experience and know-how to safely carry out the job. You'll not only rest easier at night knowing the work was done correctly, but you'll save time and money in the long run.
---
Searching for trustworthy plumbing, air conditioning, heating, and electrical services in Ashburn, VA? Call us today at (703) 348-9881 to schedule service and get back to your routine as quickly as possible.
---
Hear From Our Satisfied Customers
Past Customers Are Our Best Advertisements
"This company is prompt, reliable, and friendly!"

T. B.

"Thanks for helping turn in a somewhat stressful situation around rather quickly!"

Nikki Lee J.

"I highly recommend you give them a call!!!"

Stephen W.

"We use Reddick & Sons for all of our residential and commercial needs."

Amy D.

"The only plumber, I'll ever use!"

Larry W.