Expert Services, Guaranteed Results!
Proudly Serving Northern Virginia Since 2009
Northern Virginia Furnace Installation
Same-Day* Furnace Replacement in Prince William County & Beyond
Your furnace sees heavy use daily during colder weather and, as it ages, it will begin to wear out and show signs of deterioration. These signs can include mechanical failure and issues running as efficiently as it used to, which ultimately end up costing you more money.
If you have been experiencing frequent issues with the furnace in your home and furnace repairs are no longer the most cost-effective resolution, then it may be time to consider replacing it with a newer model. The heating experts at Reddick & Sons are here to help with fast and professional furnace installation in Northern Virginia.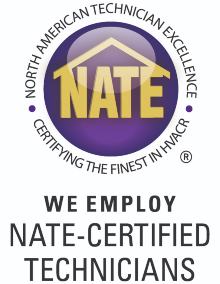 Why Choose Reddick & Sons to Install Your New Furnace?
We're available 24/7 for emergency service
Same-day services (*subject to availability)
NATE-Certified HVAC technicians
We specialize in older homes
We provide easy online booking
Call Reddick & Sons at (703) 348-9881 for furnace replacement in Fairfax, Ashburn, Gainesville, or anywhere in Northern Virginia.
Why Should You Replace Your Furnace?
If your furnace is more than a decade old, then it is reaching the end of its expected lifespan. After many years of usage, it will start experiencing issues with adequately heating your home the way it once did. You may notice your rooms do not heat as quickly as they used to, or that the heat in your home feels as though it fluctuates when you walk from room to room.
Replacing your old furnace can resolve these issues, as a newer model can quickly heat each room to the same temperature and require less energy to do so. This means that not only can you enjoy lowered monthly energy costs, but you can have peace of mind knowing your furnace will work reliably all season long. Our Northern Virginia furnace installation team can help you find the right new heating system for your home.
Replacing Your Furnace Improves Energy Efficiency
Many homeowners balk at the idea of investing in a new furnace, but modern furnaces are significantly more energy efficient than their older counterparts. This means that you can reduce your ecological footprint and minimize how much you have to pay each month on your energy costs. Not only are newer models designed with energy efficiency in mind but, since the furnace hasn't yet seen years of heavy usage, it will perform better and be much more reliable than your older unit.
Protect Your Investment with Furnace Maintenance
Installing a new furnace is a significant investment. Here are some helpful tips for improving the longevity of your furnace.
Schedule annual furnace tune-ups - These are important to ensure your furnace stays fully functional. We advise that you schedule a professional furnace maintenance service at least once per year in the fall.
Clean your furnace - Keep your furnace clean. Turn off your breaker and clean the fan with a wet cloth. You'll also want to make sure you brush off any dirt or dust from the sides of the unit as well as the bottom of the combustion chamber. Or, you can simply leave it to us during your maintenance visit!
Change the filter regularly - Make sure your HVAC filters are being changed at least every 1 to 3 months. If you aren't changing your filters regularly, your system has to work much harder to take air through the heating unit.
Our professional heating services are designed with your comfort in mind. Get in touch with us today to receive honest, helpful advice regarding your options for furnace installation.
Contact us today for same-day* furnace replacement in Northern Virginia. We offer free estimates!
*subject to availability
Hear From Our Satisfied Customers
Past Customers Are Our Best Advertisements
"The only plumber, I'll ever use!"

Larry W.

"Not only was the job done professionally and efficiently but Danny went above and beyond."

Megan F.

"Finally, an organization that cares and will not overcharge."

Cindy C.

"Friendly and easy-going they were. Great service!"

Tam N.

"They promptly came, diagnosed the issue and remedied it. Great customer service!"

Anne Reilly N.