Expert Services, Guaranteed Results!
Proudly Serving Northern Virginia Since 2009
Northern Virginia Kitchen Plumbing Repair
Treating Our Customers Like Family, Every Single Day
If you're like many homeowners, your kitchen is the heart of your home. It's where you prepare meals, eat with family and friends, entertain, and spend a significant portion of your time. So when your garbage disposal or kitchen sink is in need of repairs and maintenance, depend on the experts at Reddick & Sons for reliable Northern Virginia kitchen plumbing repair and installation. We help homeowners throughout the Fairfax, Ashburn, Gainesville, and surrounding areas.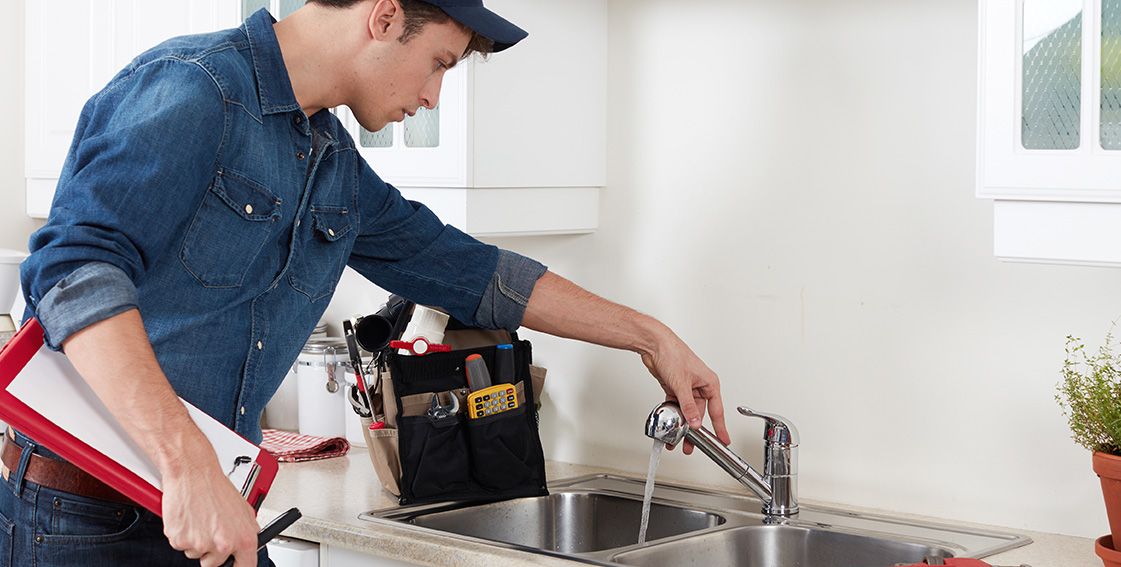 We'll Repair Your Faucet & Sink
Is your faucet leaking when you do the dishes, or is there a pool of water underneath the sink? Then you need efficient faucet leak repair and kitchen sink repair services from one of our plumbing experts. We'll happily visit your home and quickly solve the issue so you can use your kitchen again. So, if you notice any of the following don't delay in contacting our Northern Virginia faucet repair team.
How Do I Know if My Faucet Is Broken?
---
The faucet is constantly dripping
There is mold growing on or around the faucet
The faucet is rusted or corroded
There are visibly worn seals or damaged components
The handle of the faucet is loose
There are mineral deposits within the faucet
The faucet spits out or sprays water when on
Is Your Garbage Disposal Broken?
Many homes in the area are equipped with a garbage disposal unit. These handy systems are located just inside the drain in the kitchen sink and use a series of whirring blades to shred apart large pieces of food and other debris so that they can be safely washed away with water. However, if your garbage disposal has stopped working, you may notice that unpleasant smells from rotten food are starting to fill your kitchen. When this happens, contact the Northern Virginia garbage disposal team at Reddick & Sons for professional service to restore your unit to proper working order. We are equipped to resolve a variety of garbage disposal problems.
Common Garbage Disposal Issues Include:
---
A leaking disposal
A jammed or clogged disposal
A disposal that makes humming noises when running
A disposal that won't drain
A disposal that is overheated
A disposal that won't run at all
A disposal that isn't breaking down food debris properly
Is My Garbage Disposal Clogged?
A functioning garbage disposal can be a convenient and hassle-free way to dispose of your kitchen waste. But when it becomes clogged, it can quickly turn into a frustrating and smelly problem. Fortunately, there are several signs that you can watch for that can help you identify the issue early on. For example, if you notice that there's standing water in your kitchen sink when the unit is running or that water drains very slowly, there's a good chance that something is blocking your garbage disposal. Over time, food particles, grease, and other debris can build up in your disposal and cause it to become clogged. That's why we recommend that you avoid tossing the following items down your kitchen sink.
What Not to Put in a Garbage Disposal:
---
Pasta, rice, and other foods that can expand when wet
Egg shells that can get stuck within the garbage disposal
Coffee grounds that can become a paste like substance leading to a clog forming
Nuts, shells, fruit pits, and other hard foods that can often damage the disposals blades
Celery, corn husks, and other fibrous foods that can get wrapped around the disposal
Potato peels and onion skins that can stick to the disposal causing a clog
If you think that your garbage disposal may be clogged, don't delay in contacting our team. Our Northern Virginia garbage disposal repair specialists can inspect your system to determine what is causing the clog and the repair needed.
Ready to Assist With All Your Kitchen Plumbing Needs
Keep the pipes, fixtures, and faucets in your kitchen working properly with the help of Reddick & Sons Inc.. With our reliable plumbing repair and installation services you can rest assured that any issues with your garbage disposal, kitchen sink, or faucet will be resolved quickly and accurately. The professionals at Reddick & Sons have the skills and know-how to solve a wide variety of kitchen plumbing problems. Plus, we offer lots of ways to save on our services with our affordable coupons!
Depend on professionals who can deliver exceptional kitchen plumbing installation and repair. Call (703) 348-9881 or contact us online for same-day service* in Loudoun County, Fairfax County, and Prince William County.
*Subject to availability
Hear From Our Satisfied Customers
Past Customers Are Our Best Advertisements
"Replaced a kitchen sink for us on short notice. Will use again."

Benjamin F.

"I highly recommend you give them a call!!!"

Stephen W.

"Not only was the job done professionally and efficiently but Danny went above and beyond."

Megan F.

"Absolutely blessed to have found Reddick & Sons and I guarantee you will too."

John H.

"I recommend him to all my friends and family!!!"

Tiffany H.