Expert Services, Guaranteed Results!
Proudly Serving Northern Virginia Since 2009
Alexandria Furnace Repair
Call to Request Same-Day or Emergency Furnace Service
Reddick & Sons is the locally-owned, family-operated company you want to call when you need furnace repair in Alexandria, VA. If your furnace is acting up, don't wait too long to get in touch with us to request furnace service. Our experienced team can help you quickly diagnose the source of the problem and get to work on the right solution, whether that involves a quick repair, a comprehensive maintenance service, or a complete system replacement. We can always be counted on for fair pricing and superb customer care!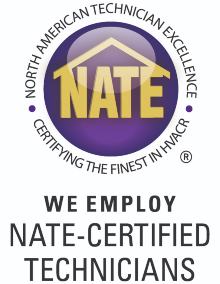 Why Choose Reddick & Sons for Furnace Service?
NATE certified HVAC experts
Same-day appointments often available
Available 24 hours a day for emergencies
Personalized solutions for every situation
Your satisfaction is guaranteed
To schedule your furnace repair appointment with Reddick & Sons, please call (703) 348-9881 now!
Common Furnace Problems We Can Help With
Furnaces are an excellent choice to heat Alexandria homes due to their energy efficiency and relatively low cost of operation compared to other types of heating systems. But just like any other mechanical system, they do require regular upkeep and occasional repairs to keep them in good shape. In fact, many furnace problems are a direct result of inadequate maintenance.
If something is wrong with your furnace, don't fret. Give us a call today for help with any of the following problems:
Furnace will not turn on
Furnace is short cycling (constantly turning on and off for only a minute or two at a time)
Cool or cold air coming from the return vents when the furnace is running
Furnace smells like burning plastic, ozone, or natural gas (turn off your furnace and call for service ASAP)
Your furnace is constantly running, but your home never feels warm enough and your energy bills have skyrocketed
Financing Available for Furnace Replacement in Alexandria!
When furnace repairs are not possible or feasible from a cost-benefit perspective, it may be time to consider replacing your furnace altogether. Our Alexandria furnace installation team can help you understand your options and explain the many benefits of upgrading your equipment. Financing is available for new furnace purchases! Get in touch with us today to request a quote.
Annual Furnace Maintenance Service
The best way to avoid furnace repair is to have your furnace professionally serviced at least once per year. Annual furnace maintenance allows your technician to uncover any potential issues before they have a chance to turn into larger problems or a complete system breakdown. Furnace maintenance is a cost-effective and easy way to keep your equipment running better and lasting longer. For your convenience, Reddick & Sons offers Service Contracts for all of your home service needs. Sign up today!
Our Alexandria furnace repair and replacement team looks forward to serving you. Give us a call today or fill out our online form to request service.
Hear From Our Satisfied Customers
Past Customers Are Our Best Advertisements
"I recommend him to all my friends and family!!!"

Tiffany H.

"Speedy service, great guy and solved our heating issue easily."

Sarah C.

"I highly recommend giving them a call!"

Amy D.

"I have some other issues coming up soon and will give them a call and recommend them to others as well."

Linda Wright S.

"I can't believe how simple they made something not so seem."

Chloé D.